When:
June 16, 2022 @ 8:00 pm
2022-06-16T20:00:00-07:00
2022-06-16T20:15:00-07:00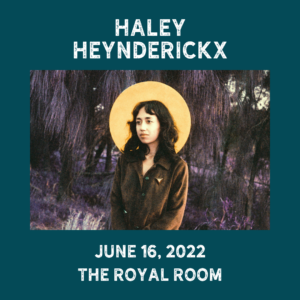 Doors: 7pm
Tickets: $25 GA, $15 Students
COVID PROTOCOLS: All our staff are fully vaccinated, and we ask that our patrons be vaccinated as well. Our staff will be masked, and we encourage our audience to wear masks as much as possible.
Advance tickets can only be purchased online-we do not sell advance tickets at the venue. Refunds are not available within 48 hours of the event. Tickets do not guarantee seating during shows at the Royal Room. Seating is first come first served. The Royal Room is All Ages until 10pm.
Haley Heynderickx and The Westerlies // Night One of Westerlies Fest kicks off with singer/songwriter Haley Heynderickx presenting a collaborative set of music with The Westerlies. Building on their 2020 performance on NPR's Live from Here, Heynderickx and The Westerlies will preview an original body of music that was recently recorded and will be released on Mama Bird Recording Co. in fall 2022.
The Westerlies are a New York-based brass quartet comprised of childhood friends from Seattle: Riley Mulherkar and Chloe Rowlands on trumpet, and Andy Clausen and Willem de Koch on trombone. Formed in 2011, the self-described "accidental brass quartet" takes its name from the prevailing winds that travel from the West to the East. "Skilled interpreters who are also adept improvisers" (NPR's Fresh Air), The Westerlies explore jazz, roots and chamber music influences to create the rarest of hybrids: music that is both "folk-like and composerly, lovely and intellectually rigorous" (NPR Music). Equally at home in concert halls and living rooms, The Westerlies navigate a wide array of venues and projects with the precision of a string quartet, the audacity of a rock band, and the charm of a family sing-along.
More info at westerliesmusic.com
It takes a mix of skill and luck to tend a garden well, but it's impossible without a certain amount of kindness tended. While the cyclical nature of gardening seems inherent, in some ways, Heynderickx is just beginning. Her debut album, named I Need to Start a Garden out of a search for calm through these waves of uncertainty and upheaval, is out now via Mama Bird Recording Co.
For the empathetic singer/songwriter, the reasons for seeking such acceptance and understanding stem from a life of paradoxes. Heynderickx grew up in a religious household in Oregon, closely identifying with her Filipino roots, but also straddling multiple cultural identities. Now residing in Portland, her faith is not overt, but her introspection and continued struggle for self-actualization are easily accessible and relatable.
Likewise, the tracks on I Need to Start a Garden reflect these seemingly disparate elements. Through soft acoustic guitar picking and deftly accented trombone sighs, Heynderickx's music immediately recalls folk music of the '60s and '70s mixed with a love of jazz radio. But Heynderickx's singing—her vocals that range from sultry to operatic—belie a tenacity in her soul.
More info at haley-heynderickx.com