When:
March 3, 2022 @ 7:30 pm
2022-03-03T19:30:00-08:00
2022-03-03T19:45:00-08:00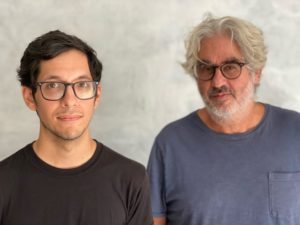 Doors: 6:30pm
Tickets: $20 advance, $25 doors
COVID PROTOCOLS: All events will require proof of vaccination to enter the venue, masks worn unless actively consuming food or drink, and we will be closely monitoring guidelines and recommendations to make sure we are doing everything we can to protect our community.
Advance tickets can only be purchased online-we do not sell advance tickets at the venue. Refunds are not available within 48 hours of the event. Tickets do not guarantee seating during shows at the Royal Room. Seating is currently first come first served. The Royal Room is All Ages until 10pm.
Tim Berne and Gregg Belisle-Chi
Tim Berne -Alto Sax
Gregg Belisle-Chi – Guitar
Tim Berne has been performing internationally since 1982 with various ensembles including Caos Totale, Fractured Fairy Tales, Bloodcount and Snakeoil among others. He has made over 50 recordings as a leader for labels such as Soul Note, Sony, JMT, ECM and Intakt records.
Gregg Belisle-Chi is an Asian-American guitarist and composer living in Brooklyn, New York and a well loved former Seattleite. Described by the New York Times as "a subtle stunner," his work draws from the spaces between the spiritual and the analytical, the ethereal and the tactile, inviting listeners to a place of pause and reflection; music that "oozes beauty both in concept and execution, making us luxuriate in its immersive sonorities." (Part-Time Audiophile)
Their debut duet Album Mars is out on INTAKT Records, and the Royal Room and Earshot Jazz are proud to present this major new work.
"A guitarist of impeccable technique and broad imagination…"- Nate Chinen
"The great enjoyment of listening to Tim Berne songs comes largely from them being puzzles that challenges your ears to put together, making the tenth listen as fresh as the first one. Gregg Belisle-Chi has mastered Berne's idiosyncratic language and on Mars he helps to place some of those puzzle pieces together, in real time. And the more of a Tim Berne's song is revealed, the more brilliant it comes across." – Something Else Reviews S. Victor Aaron
Gordon Grdina
Gordon Grdina – Guitar, Oud
Gordon Grdina is a JUNO Award (Canadian Grammy) winning oud/guitarist whose music spurs constant genre exploration throughout avant-garde jazz, free form improvisation, experimental rock, and Arabic music. His singular approach to the instruments has earned him recognition from the highest ranks of the jazz/improv world.
"Like the great athlete who sees the action ahead of him unfold in advance, Gordon Grdina has advanced powers of anticipation. A virtue no less crucial when he plays by himself"-All About Jazz Doug Collette
Set 1
Gordon Grdina will play a set of Tim Berne compositions from his new album Gordon Grdina : The Music of Tim Berne : Oddly Enough (AttaBoyGirl Records)
Set 2
Tim Berne and Gregg Belisle-Chi will play a set from their new album Mars (Intakt)