When:
January 24, 2020 @ 8:00 pm
2020-01-24T20:00:00-08:00
2020-01-24T20:15:00-08:00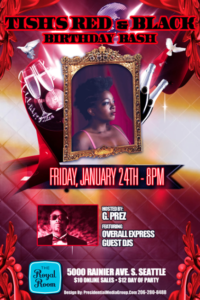 Doors at 7:30pm

Advance tickets can only be purchased online. We do not sell advance tickets at the venue. Refunds are not available within 48 hours of the event.
January 24 will be a celebration of Tish, who has been a staple in the Columbia City neighborhood for many years.
The party will feature three of Seattle's best DJ's-Vitamin D, Sean Malik and Funk Daddy.  To start the party off right, saxophonist Carlos Overall and the Overall Express will be playing some funky jazz tunes and R&B at 8pm.  Your host for the night will be DJ G. Prez, who is also the resident DJ for Columbia City Beatwalk.
Tish has been a staple in the Columbia City neighborhood for many years.  Growing up, Tish was raised in Renton, Seattle and South-Central Louisiana and is very proud of her Creole roots.  She loves to cook and eat delicious food!  Gumbo and etouffee` are two of her favorite meals to make.  She loves watching sports, especially football.  Tish has been told on many occasions that she has an infectious laugh that can be heard a block away.  Tish is an avid animal lover and loves pet sitting.  Tish is known for being the "Dog Whisperer" of Columbia City, where many of her furry clients reside.  Tish has a huge heart, and during the day she works with chronically homeless individuals with mental health issues. She has also participated in and conducted fundraisers.  This past year, she curated fundraisers for the Columbia City Beatwalk, as well as for a local diabetes camp for children. If you have attended any of the Columbia City Beatwalks in the last 3 ½ years, Tish is on the Steering Committee and has been the Beatwalk Booking Coordinator for most of the participating venues.  Tish is also an Event Coordinator and Promoter for artists throughout the Seattle area.  This past summer she coordinated several fun, popular and successful Day Parties in Columbia City and Georgetown. Tish LOVES to dance and feels like she missed her calling being a DJ.  She has an ear and eye for great talent and music, which is why she has booked three of Seattle's best DJs to play at her Birthday Party:  Vitamin D, Sean Malik and Funk Daddy.
Tish is known for throwing AMAZING and FUN dance parties, so you do not want to miss this one! Put on your dancing shoes and come out to help her celebrate!
The Royal Room is All Ages until 10pm.