When:
December 30, 2022 @ 7:30 pm
2022-12-30T19:30:00-08:00
2022-12-30T19:45:00-08:00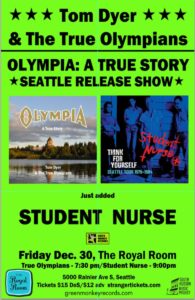 Doors: 6:30pm
Tickets: $12 advance, $15 doors
COVID PROTOCOLS: All our staff are fully vaccinated, and we ask that our patrons be vaccinated as well. Our staff will be masked, and we encourage our audience to wear masks as much as possible.
Advance tickets can only be purchased online-we do not sell advance tickets at the venue. Refunds are not available within 48 hours of the event. Tickets do not guarantee seating during shows at the Royal Room. We are now accepting reservations for diners! Please email reservations@theroyalroomseattle.com for a table. The Royal Room is All Ages until 10pm.
Tom Dyer & The True Olympians have released their 3rd album, Olympia: A True Story, a 40-song 3 CD box set with 80 page books – the story of Olympia, WA, with over 100 Olympia musicians performing. They will play about half of it at the show, not all 3 hours.  It is receiving wonderful press: "Epic album 'Olympia: A True Story' is a COVID lockdown-induced valentine to writer's home" Molly Gilmore The Olympian "This is a glorious, beautifully presented project … Remarkable." Graham Reid Elsewhere. 
STUDENT NURSE rides again! The late 70's and early 80's witnessed an explosion of underground original music in Seattle, and STUDENT NURSE was right there. We all know where that mix of exciting, down-to-earth and do-it- yourself got to ten years later. Started by legendary Rubato Record store owners Helena & John Rogers, the band went through 4 lineup changes and 4 vinyl releases before packing up in 1984. During the pandemic, a small project emerged to collect Helena's fabulous hand-silkscreened multicolored posters. It grew into collecting old recordings – John was a very early and very skilled home recording enthusiast. It grew into reviving old recordings, many derived from cassette copies. It grew into putting together a retrospective CD album of 28 gems, including everything from the vinyl as well as unreleased high quality home recordings. Released in July 2022, it's made a number of best-of lists for the year!
A wildly improbable idea to get together and play a couple of songs for the release party quickly turned into an actual gigging band, and we've been rehearsing, playing out, writing new material, and recording and having an amazing time. Still fast and full of feral high energy, the current band features the continuing presence of Helena Rogers on guitar and vocals, along with original member Eric Muhs playing a distinctive Rickenbacker bass. New members Rockin' Dave Ehrich on guitar and voice and Dr. James Lord on drums add more than enough push to get the water over the dam. Guitar-driven and hard charging, the band is like a double shot of espresso on a cold day.