When:
August 21, 2022 @ 7:00 pm
2022-08-21T19:00:00-07:00
2022-08-21T19:15:00-07:00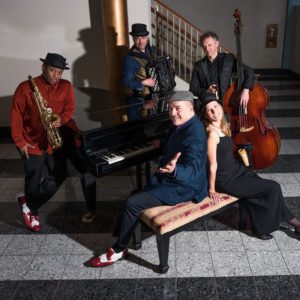 Doors: 6pm
Tickets: $12 advance, $15 doors
COVID PROTOCOLS: All our staff are fully vaccinated, and we ask that our patrons be vaccinated as well. Our staff will be masked, and we encourage our audience to wear masks as much as possible.
Advance tickets can only be purchased online-we do not sell advance tickets at the venue. Refunds are not available within 48 hours of the event. Tickets do not guarantee seating during shows at the Royal Room. Seating is first come first served. The Royal Room is All Ages until 10pm.
VICTOR JANUSZ BAND is VJ (Vocals/Piano), ARWEN DEWEY (Vocals), Spencer Hoveskeland (Bass/Guitar) Medearis Dixson (Sax) Steve White (Percussion) & Other Guests.
VJB has released 5 professional, studio recorded CDs including "Cafe Pluvieux" (2018) which was a response to the 2016 Election and global rise of authoritarianism, with French-resistance-era songs balanced with new originals by Janusz. The album was arranged specifically for duet partner Arwen Dewey and rising saxophone star Medearis Dixson —both artists who have been working regularly with Janusz for a decade.  Other CDs: The career-defining "Living In A Blue State" (2015), following the nationally-acclaimed, best-selling "Cosmo Street" (2005) and "Hands Solo (Instrumentals)" (2002). His VJ BAND—fusing rock,  blues and jazz— has headlined at Highway 99 Blues Club,  Tulas, the Royal Room, Tulalip Casino, Alki Ballroom (Saltys )  Boeing Museum of Flight, to name a few venues! He has been a Special Guest alongside such musical acts as Harry Shearer & Judith Owen Band, Julia Fordham, Duffy Bishop Band @ Teatro Zinzanni, Billy Joe Huels, El Vez —among many others. Since 2004, Janusz has held a part-time day-position in Music Therapy, working with individuals facing stroke recovery, dementia and Alzheimer's Disease. He continues a weekly Tuesday Show at Kline-Galland in Seward Park titled  "Fun With Vic & Dick" featuring an hour of singing at the keys with 93-year old Big-Band era drummer, Dick Weiner!
In 2020, Janusz released a career-retrospective, "A Song To Love: Music & Lyrics of VJ 2004—2020" 17 tracks of his most beloved tunes, which also introduced a brand new single: "Fruitcake Blues" a Duet with Blues Hall of Famer  Duffy Bishop.
The Seattle-based Singer-Pianist has worked regularly at Saltys On Alki (15 Years, Resident "Weekend Brunch Pianist")  Columbia Tower Club, CANLIS (Seven New Years Eve Galas), Aqua/El Gaucho, the Fairmont, to name a few. His one-man show about a 'life at the keys' titled "HANDS SOLO: Pianoman" (directed by Lori Larsen) debuted at NYC's the Duplex and sold out its two-week engagement in ACT Theatre's 2014 Season, Palm Springs' Arthur Newman Theatre, and at Yale University Cabaret. Currently, Janusz enjoys the second year in an exclusive, open engagement of Fridays at Washington Athletic Club's new, swank dinner club "Torchy's" —where he entertains as a solo pianist, and frequently brings in band mates, to join him as he serenades his audience as well.
(Debuted April 2020, adhering to COVID safe policies)