When:
August 30, 2020 @ 6:30 pm
2020-08-30T18:30:00-07:00
2020-08-30T18:45:00-07:00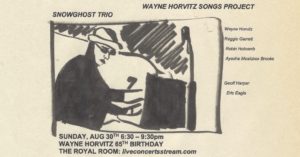 August 30th will feature the Wayne Horvitz Songs Project, as well as the Snowghost Trio.
Wayne Horvitz Songs Project with Reggie Garrett, Robin Holcomb, Alex Guy, Ayesha Musicbox Brooks, Eric Eagle, Keith Lowe:
The Wayne Horvitz Songs Project is a personal work specifically tailored for this evening. This personal project will feature different artists who Horvitz has worked with in long term collaborations including Robin Holcomb his wife of 30+ years, to more recent such as singer Ayesha Musicbox Brooks.
Snowghost Trio:
The Snowghost Trio, made up of long-time collaborators Wayne Horvitz, Eric Eagle and Geoff Harper, first formed in Spring of 2015, during a residency at Snowghost Studios. The music created during that week was originally recorded as a series of impromptu sessions, with a focus on process. Horvitz comments that the relaxed energy of this groups first meeting was very unique; and made for music making which was always free of expectations or certain ends. The trio continues to play throughout the Pacific Northwest and within the Seattle area.
"If Sartre made a noir flick, he'd have wanted Wayne Horvitz to score it. A Seattle-based pianist with downtown-New York credentials dating back to the 1980s, he writes with the blues in mind and a theatrical impulse only partway disguised." – The New York Times
"This music…is pure Horvitz magic…the harmonic sparseness commingled with sudden sharp melodic rises feels similar to the way the Absaroka Mountains suddenly shoot up from a vast range of farmland, dusted with snow." – Bandcamp
Join us for our recurring series titled 'Staycation Festival', a summer-long series of streaming events at the Royal Room, co-hosted by Live Concerts Stream.
You can stream the show at LiveConcertsStream.com, and on the Royal Room Facebook page!
Royal Room page: facebook.com/royalroomseattle/
Live Concerts Stream: liveconcertsstream.com/
Both sites will have a link to donate to the artist 🙂
Performed live on The Royal Room stage, following all Washington State Department of Health guidelines.