When:
August 28, 2020 @ 6:30 pm
2020-08-28T18:30:00-07:00
2020-08-28T18:45:00-07:00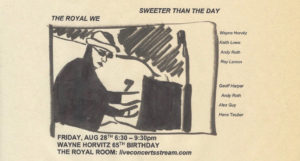 August 28th will be a very special and unique online party for Wayne Horvitz' 65th Birthday.
Wayne Horvitz is a composer, pianist and electronic musician. He is the 2016 recipient of the Doris Duke Performing Artist Award, the NEA American Masterpieces Award and three MAP Fund awards. He has been commissioned by the Kronos Quartet, The icicle Creek Trio, The Seattle Symphony, BAM and The Kitchen among others. He is collaborated with, among others, Bill Frisell, Robin Holcomb, Gus Van Sant, John Zorn, and Butch Morris. He appears on over 300 CDs, 30 as a leader.
Also featuring:
The Royal We
The Royal We first started as the informal late-night group at the Royal Room lounge. The music is vastly improvised and culminates from motifs and compositions by Wayne Horvitz as well as inspirations from African pop music, 60's modal jazz and open improvisational forms. With a rapport of weekly sessions, the group members share a long time standing with each other and the in-formalness of their culmination makes for spontaneous music and a unique openness.
Wayne Horvitz – piano
Geoff Harper – bass
Alex Guy – viola
Hans Teuber – saxophone
Andy Roth- drums
Ivan Galvez- percussion
Sweeter Than the Day
Formed in 1999, Sweeter than the Day began simply as the acoustic incarnation of Zony Mash. The band played a series of weekly shows at Seattle's Baltic Room (curated by Reggie Watts), and quickly became Wayne Horvitz's first piano-based ensemble in over 10 years, and one of Wayne's longest-running groups, as well as one of his favorites. Despite the shared personnel, the ensemble is quite distinct from the electric Zony Mash and the repertoire is almost entirely different. The band has toured throughout the US, Canada and Europe. Sweeter Than the Day also presents double bills with Robin Holcomb, where it serves as Robin's backup band.
Wayne Horvitz – piano
Keith Lowe – bass
Andy Roth – drums
Ray Larson – trumpet
'On piano, Horvitz is economical yet lyrical, never venturing far from the strong melodic hooks which characterize his compositions, but constantly working small surprises.'
The Wire (UK)
Join us for our recurring series titled 'Staycation Festival', a summer-long series of streaming events at the Royal Room, co-hosted by Live Concerts Stream.
You can stream the show at LiveConcertsStream.com, and on the Royal Room Facebook page!
Royal Room page: facebook.com/royalroomseattle/
Live Concerts Stream: liveconcertsstream.com/
Both sites will have a link to donate to the artist 🙂
Performed live on The Royal Room stage, following all Washington State Department of Health guidelines.