When:
October 22, 2020 @ 7:00 pm
2020-10-22T19:00:00-07:00
2020-10-22T19:15:00-07:00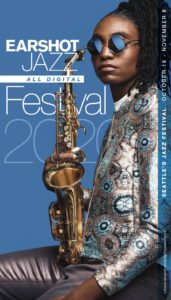 Seattle Jazz Hall of Fame multi-instrumentalist Amy Denio has a limitless creative spirit. Her duos with drum funk phenom Tarik Abouzied reveal fresh magic every time.
AMY DENIO is an internationally recognized record producer, composer, improviser, singer and multi-instrumentalist. Her main instruments are voice, alto saxophone, clarinet, accordion, acoustic and electric guitars, electric bass, and theremin. She has performed and recorded with such people as Derek Bailey and Pauline Oliveros to name a few.
"A peripatetic purveyor of multitudinous musical delights – her one-woman shows are replete with linguistic gymnastics, instrumental improvisations, and more mood elevators than a year's worth of your favorite pharmaceutical" – Derk Richardson, East Bay Express (California)
WAYNE HORVITZ
In their New American Standard, Wayne Horvitz (acoustic and processed piano), vocalist Ayesha Brooks, and cellist Ha Yang Kim reflect on American music, culture, virtue, tragedy, travesty, and traditions through improvisations, compositions and conductions. Horvitz is a composer, pianist and electronic musician. He is the 2016 recipient of the Doris Duke Performing Artist Award, the NEA American Masterpieces Award and three MAP Fund awards. He has been commissioned by the Kronos Quartet, The icicle Creek Trio, The Seattle Symphony, BAM and The Kitchen among others. He is collaborated with, among others, Bill Frisell, Robin Holcomb, Gus Van Sant, John Zorn, and Butch Morris. He appears on over 300 CDs, 30 as a leader.