When:
December 8, 2021 @ 7:30 pm
2021-12-08T19:30:00-08:00
2021-12-08T19:45:00-08:00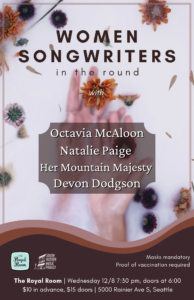 Doors: 6pm
Tickets: $10 advance, $15 doors
COVID PROTOCOLS: All events will require proof of vaccination to enter the venue, masks worn unless actively consuming food or drink, and we will be closely monitoring guidelines and recommendations to make sure we are doing everything we can to protect our community.
Advance tickets can only be purchased online-we do not sell advance tickets at the venue. Refunds are not available within 48 hours of the event. Tickets do not guarantee seating during shows at the Royal Room. Seating is currently first come first served. The Royal Room is All Ages until 10pm.
Seattle songwriters Octavia McAloon, Natalie Paige, Her Mountain Majesty, and Devon Dodgson join each other in the round for a night of lush and emotive music. Featuring stirring voices, exquisite guitar playing, and enchanting harmonies as they share in each other's songs, this is a night you won't want to miss!
Octavia McAloon is a captivating singer-songwriter and classical musician based in Seattle, WA.  With intricate fingerpicking and velvety vocals, she weaves together songs that draw listeners in. Set to soothing nylon strings, her lyrics tend towards natural influences and experiences with "the other" while still incorporating relatable stories of the human experience.
In Octavia's songwriting and compositional style, she works towards bridging the gap between her folk and classical backgrounds.  Consequently, the music she produces is always steeped in vocal harmonies and atmospheric textures.  In live performance, she lets the intimate sound of a guitar and eloquent lyrics take the lead.
Natalie Paige is a singer song writer whose music stems from the heart of a poet. Paige's performances are a hybrid of musicality often compared to Norah Jones, paired with the modern & audacious vocal influences of Adele, and the timeless heart of folk yearning to share personal (yet intrinsically universal) experiences and emotions.
Her Mountain Majesty is the music project of Andi Lee Scher, a singer-songwriter & multi-instrumentalist currently creating in Seattle, WA. Inspired by folk, rock, blues and soul, Her Mountain Majesty weaves together hearty acoustic rhythms with melodies singing of the restless human spirit seeking connection, belonging, and coming home to oneself. Predominantly a guitarist and singer, Scher also dabbles in mandolin, bass, and banjo and has been recording and self-producing her own music, currently available on Spotify and all other streaming platforms. The name Her Mountain Majesty is in reverence to the land we walk upon as if bowing down to the mountains in gratitude, while also giving a nod to the "purple mountains majesty" celebrating the many humble women in history who have paved the way for women to make their voices heard and create a more equitable future in this country for all.
Leading with honest lyrics and emotive vocal delivery, Devon Dodgson's songwriting is marked by vulnerability.  Her music explores themes of love, heartache, loss, and home, writing from experiences using songwriting as a safe space to reflect and process emotions.  A trained music therapist, Devon writes and performs with the belief in music's ability to promote healing through connection, expression, and truth telling.  She has been active in Seattle's music scene since moving to the area in 2013. Devon's most recent body of work is a collection of Field Recordings  filmed and released through 2021 when she spent the first part of the year hunkered down in her hometown of Kansas City waiting out the COVID-19 vaccine.  Devon regularly packed up a microphone, guitar, and iPhone, and set out into the woods behind her childhood home to record live performance takes while capturing video footage of her surroundings.  She released a full length album in December of 2019 titled Tapestry.