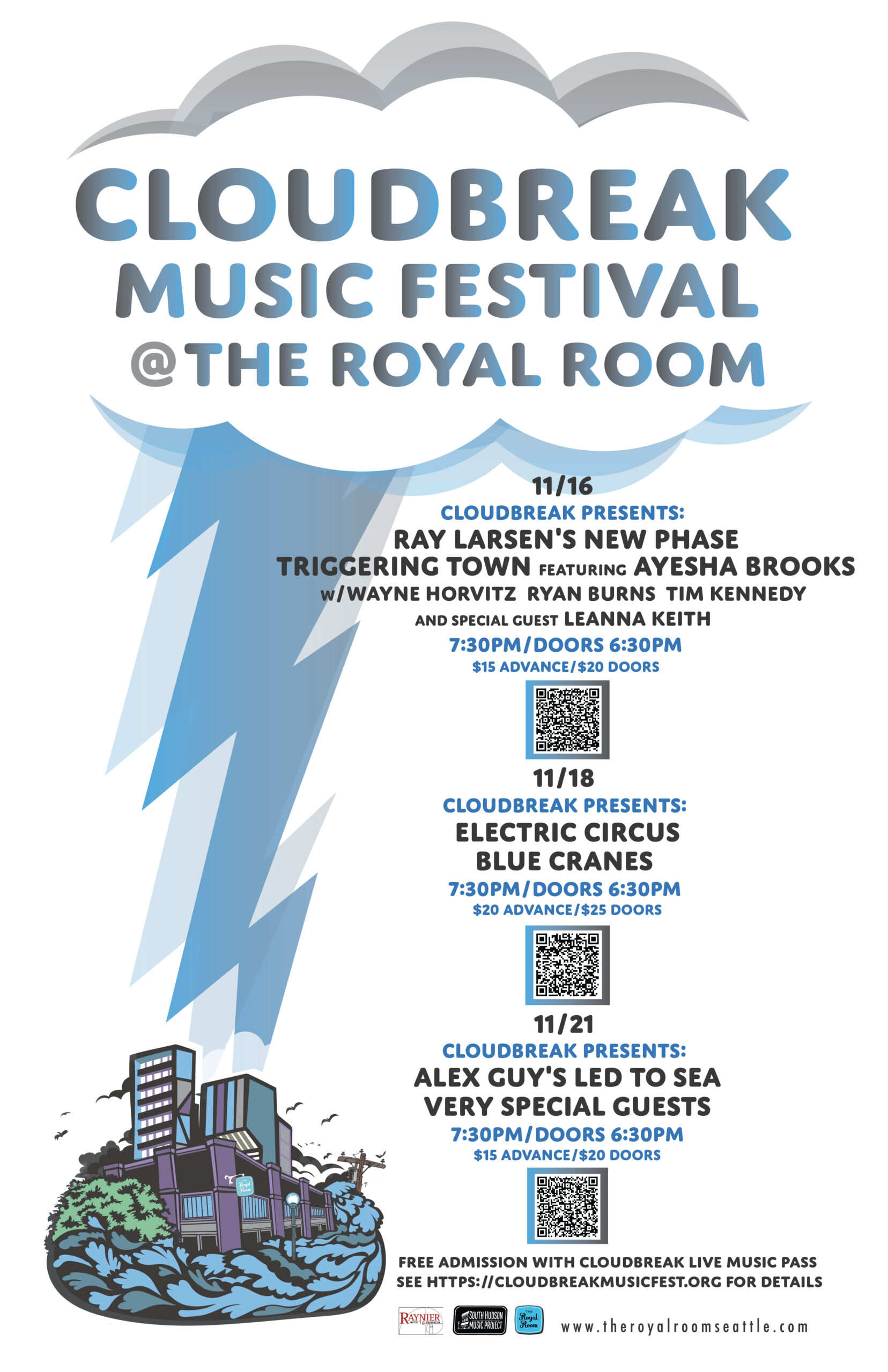 Cloudbreak Presents: Electric Circus//Blue Cranes
11
11 people viewed this event.
Doors: 6:30pm
Tickets: $20 advance, $25 doors, free with Cloudbreak Live Music Pass
Advance tickets can only be purchased online-we do not sell advance tickets at the venue. Refunds are not available within 48 hours of the event. Tickets do not guarantee seating during shows at the Royal Room. 
We are now accepting reservations for diners! After purchasing tickets, please visit the Reservations page to book a table. Table reservations require advance tickets, and are only for guests who plan to dine at the Royal Room.  We do not take reservations over the phone.
Seating for non-diners is first come, first served. Please arrive early to guarantee a seat!
The Royal Room is All Ages until 10pm.
Electric Circus is a 16-piece multimedia orchestra which creates wide ranging improvisations that are 1-part sonic madness, 1-part orchestral happenings, and 1-part dance floor grooves for a future generation. The music begins with granular chunks of classic funk, pop, soul, and rock riffs to instigate all manner of madness. The music is created using "conduction" to generate musical launch points and morphing structures. Sun Ra, Sly and the Family Stone, Devo, the Clash, James Brown, The Pointer Sisters, Electric Miles, Los Lobos, Funkadelic, and many, many more all appear in a myriad of manners – clear, obscure and every way in between.
Musicians: Beth Fleenor, Alex Guy, Simon Henneman, Kathy Moore, Gordon Brown, Neil Welch, Kate Olson, Geoff Harper, Ray Larsen, Ayesha Brooks, Gregg Campbell, Andy Roth, Leanna Keith, Ryan Burns, Ivan Galvez. Lights: Brad Rouda.
Keeping a band together, particularly among the mercurial community of jazz musicians, is no small feat. Other gigs beckon. Life outside of making art takes precedence. It's a reality that makes the continued existence and progression of Portland quintet Blue Cranes feel so momentous. The ensemble — saxophonists Reed Wallsmith and Joe Cunningham, drummer Ji Tanzer, keyboardist Rebecca Sanborn, and bassist Jon Shaw — has been working together in a variety of formats since 2004, creating a solid body of work that has connected them to both the traditional sounds and the future-minded artists of their chosen genre.
What has kept them together, even as Cunningham has lived outside of Portland for the past few years, is strong personal and creative bonds. As a collective, their remit has always been to continually push their art further and further outside their comfort zones and to the edges of their abilities. It's what fueled the group's last album, 2021's Voices, which found Blue Cranes recording for the first time with an assortment of vocalists (Laura Gibson, Edna Vazquez, Holland Andrews, Peter Broderick, Laura Veirs). And that desire to stretch even further beyond their previous work is at the heart of their new album My Only Secret.
This event is sponsored in part by Cloudbreak Music Festival