Registrations have closed.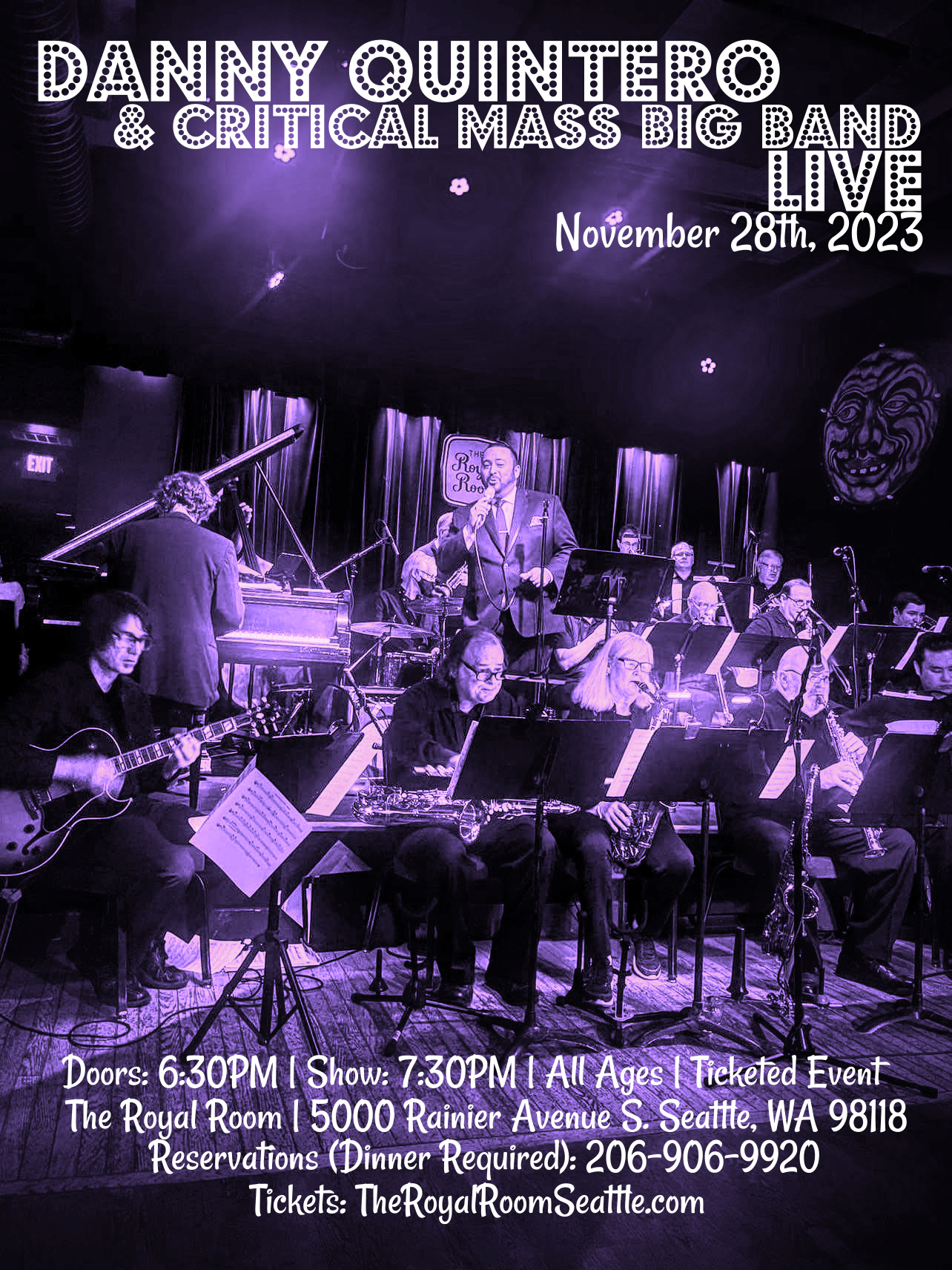 Danny Quintero and Critical Mass Big Band
1298
1298 people viewed this event.
Doors: 6:30pm
Tickets: $15 advance, $20 doors
Advance tickets can only be purchased online-we do not sell advance tickets at the venue. Refunds are not available within 48 hours of the event. Tickets do not guarantee seating during shows at the Royal Room. 
We are now accepting reservations for diners! After purchasing tickets, please visit the Reservations page to book a table. Table reservations require advance tickets, and are only for guests who plan to dine at the Royal Room.  We do not take reservations over the phone.
Seating for non-diners is first come, first served. Please arrive early to guarantee a seat!
The Royal Room is All Ages until 10pm.
One of Seattle's finest jazz orchestras, Critical Mass Big Band (5 saxophones, 4 trombones, 5 trumpets, piano, guitar, bass, and drums) celebrates and presents an evening of big band jazz with special guest vocalist Danny Quintero for all ages.
Critical Mass Big Band is honored to share the stage again with Danny Quintero. Danny has graced audiences all over the world from Seattle to Italy where he performed in Rome, Todi, and at the world famous "Umbria Jazz Festival" in Perugia with the award winning Garfield High School Jazz Orchestra. Danny has appeared with many high profile musicians such as the Seattle Repertory Jazz Orchestra (SRJO) in their tribute to "Ol' Blue Eyes, the Music of Frank Sinatra", at Jazz clubs throughout the Pacific Northwest, and countless weddings, festivals, and private events.  As Clarence Acox, Seattle Jazz Legend, says about Danny:  "There are many 'so-called' singers that make an attempt to do the music of Frank Sinatra, Dean Martin, etc. Most of these attempts come off with varying degrees of success and as a musician; it sometimes becomes a chore to share their stage. This is NOT the case with Danny Quintero. His sense of phrasing and attention to detail and pitch are impeccable. He studies the music of the greats that have come before him and understands the lineage, beauty and importance of the Great American Songbook. The young man can flat out sing."
Founded in 2001 as an offshoot of the Woodinville Community Band, Critical Mass Big Band has evolved into a polished and talented group of Seattle-area musicians playing music of the finest big band composers including favorites George Stone, Gordon Goodwin, Sammy Nestico, Bob Mintzer, Ellen Rowe, Thad Jones and many others.  This eighteen-piece big band under the direction of Ian Jellison and Rob Parks, boasts a stellar line-up including Stephen Reinke, Ian Jellison, Al Lowe, Barbara Hubers-Drake, Malcolm Harris on saxophones; Jim Elder, Dave Buck, Doug Lora, Vinnie Christ on trombone; William Ward, Marty Malloy, Mark Baker, Greg Klein, Victor Ross on trumpet; Seth Ahnert on piano; Rob Parks on drums; Philip Demaree on bass; Neal Adams on guitar.