When:
March 14, 2023 @ 7:30 pm
2023-03-14T19:30:00-07:00
2023-03-14T19:45:00-07:00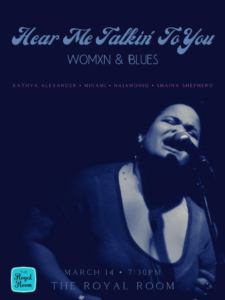 Doors: 6:30pm
Tickets: $20 advance, $25 doors
Advance tickets can only be purchased online-we do not sell advance tickets at the venue. Refunds are not available within 48 hours of the event. Tickets do not guarantee seating during shows at the Royal Room. We are now accepting reservations for diners! Please email reservations@theroyalroomseattle.com for a table. The Royal Room is All Ages until 10pm. All our staff are fully vaccinated, and we ask that our patrons be vaccinated as well. 
Amplifying the stories, songs and voices of womxn and non-binary artists through blues and blues-influenced music and verse. This show is part of an exciting series, curated by Reese T.
Kathya Alexander is a writer, playwright, storyteller, and teaching artist. She was a Writer-in-Residence at Hedgebrook Writer's Retreat and won the Fringe First Award for Black to MyRoots: African American Tales from the Head and the Heart in Edinburgh, Scotland. Other awards include 4Culture, Office of Arts and Culture, Artist Trust, and Seattle Parks and Recreation. She has been published in The Pitkin Review, Arkana Magazine, Pontoon Poetry,Colors NW Magazine, the South Seattle Emerald and Native Skin Magazine, and in anthologies by the African American Writers Alliance and Raising Lily Ledbetter: Women Poets Occupy the Workplace by Lost Horse Press. Her playwriting credits include The Negro Passion Play; Black D*ck Matters; David & Jonathan: A Modern Day Retelling of the Biblical Story; and emotionalblackmale. She is the author of Angel In The Outhouse and her debut novel is scheduled for release in 2023 by Aunt Lute Books
Minami is a Japanese born and raised blues/soul singer/improviser based in Seattle. She started her career as a singer in Japan sharing the stage with world class blues players such as "Weeping harp" Senoh and Satoru Hiramatsu.
Moving to Seattle, she released her first EP "Sum of Us" in 2014 with her husband, bassist Dylan Hughes, as a band, Minami & the Cyclophonics. Her music video "Only One" was released in 2016.
Her influence includes Joss Stone, Janis Joplin, Aretha Franklin and Japanese Pop music. Her powerful yet sensitive vocal style and dynamic stage presence will bring pleasant surprise and captivate any audience.
Najamoniq Todd is a rare breed of integrative artist that draws bridges between worlds. A singer rooted in the rich soil of gospel, jazz and blues, she blends fundamentals into her own musical fabric. Backed by homespun house beats and distorted guitars she delivers indie-soul anthems about freedom and self-love, inspiring her audience to dance it off, dream big and heal by overcoming obstacles and swerving on haters. When she's not instigating dance parties she is crushing the business world as owner & CEO of her own beauty salon, Mirror Ready Glam, while settling the score on outmoded beauty standards as a plus-size model in her spare time. She lives with her partner and musical collaborator, Tony Jones in Tacoma.
Shaina Shepherd is a singer, songwriter, vocal teacher, and community organizer in Seattle, WA. Known for her pervasive style as front-woman to soul-grunge band BEARAXE, her notable vocal stylings have brought her into various creative spaces — from collaborating with Duff McKagan, Chong The Nomad and Acid Tongue to sharing stages with rock stars like Dave Matthews and Thunderpussy to being a soloist with the classical ensembles around the country. Inspired by the parallels between gospel and garbage metal, Shaina Shepherd is not your average vocalist. Living in the city where both Soundgarden and Quincy Jones cut their teeth, Shaina lends her soulful voice to projects of all genres.
Inspired by Nina Simone's commitment to representing the times with the ivories at her fingers, Shaina Shepherd tells heartfelt stories of love, loss, and personal power. She describes herself as an anthem artist translating pivotal moments in human history through her unique form of poetry. Her biggest inspirations are often from Mark Twain, James Weldoyn Johnson, Maya Angelou. A teacher at heart, Shaina's songs often include a moment of audience interaction or shared moments of reflection in the room. Her dynamic vocal combines the power of theater with the tender introspection of American folk music in a commitment to every song, story, and note being real, raw, and present.