Registrations have closed.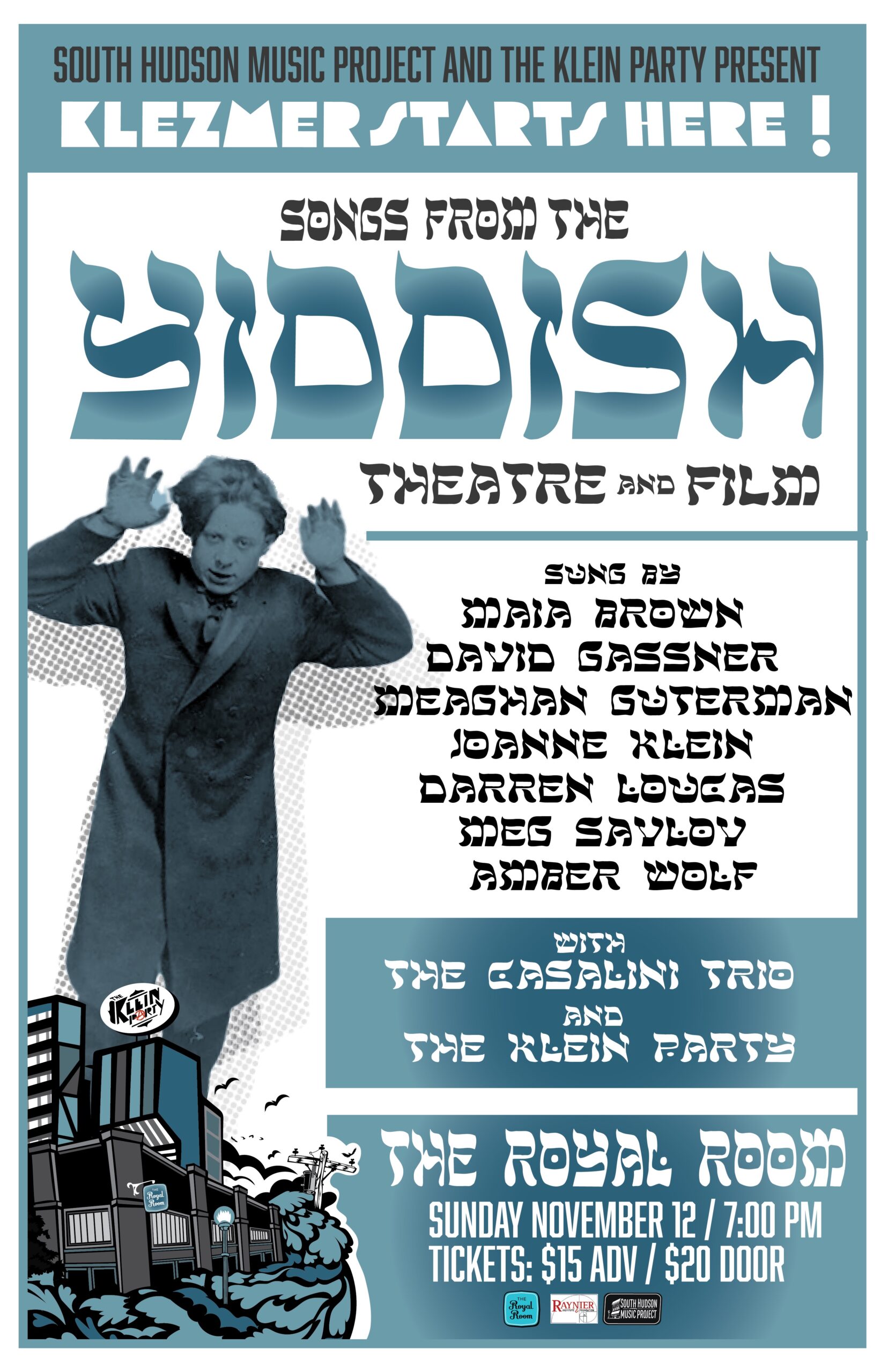 Klezmer Starts Here!: Music from Yiddish Film & Theatre
1292
1292 people viewed this event.
Doors: 6pm
Tickets: $15 advance, $20 doors, $10 SJCC Community
Advance tickets can only be purchased online-we do not sell advance tickets at the venue. Refunds are not available within 48 hours of the event. Tickets do not guarantee seating during shows at the Royal Room. 
We are now accepting reservations for diners! After purchasing tickets, please visit the Reservations page to book a table. Table reservations require advance tickets, and are only for guests who plan to dine at the Royal Room.  We do not take reservations over the phone.
Seating for non-diners is first come, first served. Please arrive early to guarantee a seat!
The Royal Room is All Ages until 10pm.
The concert will feature songs written for the Yiddish Theatre and Film by the "Big Four" American Yiddish Theatre composers Abraham Ellstein, Alexander Olshanetsky, Joseph Rumshinsky, Sholom Secunda, and, as well as the composers & lyricists Burkhard Braband, Nellie Casman, Joseph Cherniavsky, Mordechai Gebertig, Louis Gilrod, Abraham Goldfaden, Jacob Jacobs, H. Kalmanowitz, Arthur Kevess, Isidor Lillian, Itzik Manger, David Meyerowitz, Cantot Moyshe Oysher, Arnold Perlmutter, Leib Rozental, Peretz Sandler, Ansell Schorr, Teddi Schwartz, Solomon Smulewitz. Shlomo Steinberg, Chaim Tauber, Herman Wohl, Herman Yablokoff, and the great Molly Picon.
The concert includes vocalists Maia Brown, David Gassner, Meaghan Guterman, Joanne Klein, Darren Loucas, Meg Savlov, and Amber Wolfe, accompanied by the Casalini Trio and the Klein Party. The singers come from Yiddish music, musical theatre, jazz, cabaret, Ladino, rock, and classical backgrounds.
Yiddish Theatre and Film
Although European Jews performed plays in Yiddish from the early 19th century, the professional Yiddish theatre is considered to date from 1876 in Romania. By the end of the 19th century, companies were performing throughout Central and Eastern Europe, London, and the United States. Songs such as "Bei Mir Bistu," "Dona Dona," and "Yossel Yossel (Joseph Joseph)" influenced Tim Pan Alley and Broadway composers and crossed over into American popular music. Many of these tunes found their way into the klezmer repertoire.
Maia Brown, a member of the anti-fascist Yiddish trio, Brivele, is a Yiddish musician, dance leader, and educator on unceded Duwamish, Coast Salish land in Seattle, with a background in history and fine art.
David Gassner is a stage actor, director, and producer, variously leading the Radial Theater Project, 18th & Union, and Theater Schmeater, who now sings with The Klein Party.
Meaghan Guterman is a Seattle-area soprano, voice teacher, and doctoral candidate at UW, who is passionate about Yiddish Theater music.
Joanne Klein is a long-time Seattle talent, who draws on jazz, R&B, cabaret, pop, theatre, and classical music in a fresh, comic, lyrical look at the world.
Darren Loucas is a singer-songwriter and multi-instrumentalist,  a co-founder of the BB Award-winning NW blues outfit, The Jelly Rollers, and leader of both The Automat and The Luz Bones.
Meg Savlov is an actor and singer with a background in Turkish, Sephardic, and flamenco music who has been performing in theaters, films, and all manner of venues in Seattle and Portland for over 25 years.
Amber Wolfe, occasionally known as "Café au Lait Olé," sings with Off the Hook: Old Skool Kool, The Abbagraphs, Miss Mamie Lavona the Exotic Mulatta and her White Boy Band, and The Klein Party.
The Casalini Trio features Joseph J. Casalini (bass), Evan Davis (drums), and Mark Lutwak (piano). The trio focuses on Ellingtonia, lesser-known songs from the Great American Songbook, and other beautiful tunes that swing. They have been playing Happy Hour every other week or so at the Royal Room for the past 4 or 5 years.
The Klein Party celebrates and plays "klezmerish music from All the Old Countries with a jazz sensibility and rock-and-roll exuberance." The core of the repertoire are original arrangements of Ashkenazi Jewish music from the Old World, as well as New World compositions from masters such as Naftule Brandwein, Dave Tarras, Abe Schwartz, Harry Kandel, I.J. Hochman, Lieutenant Joseph Frankel, Abe Elenkrieg, and the Epstein Brothers. The Klein Party also explores other music that shares the ecstatic joy, emotional intensity, and unavoidable party music we call 'klezmer.' This includes 19th and 20th century music from the Ladino tradition, Yiddish folk and theatre music, as well as Ellingtonia, jump jazz, Roma music, novelty Americana, and songs from Albania, Australia, Bulgaria, Cuba, Hawaii, Ireland, Italy, Japan, Korea, Mexico, Moravia, Persia, Poland, Portugal, Puerto Rico, Romania, Russia, Scotland, Sicily, Turkey, and Ukraine. Over the past seven years, the Klein Party has played to thousands of enthusiastic listeners and dancers at the Royal Room, Pink Door, Northwest Folklife Festival, Washington Performance Center, Kirkland Performance Center, Vashon Center for the Arts, and many farmers' markets, holiday parties, picnics, International Ice Cream Day, and live streams.