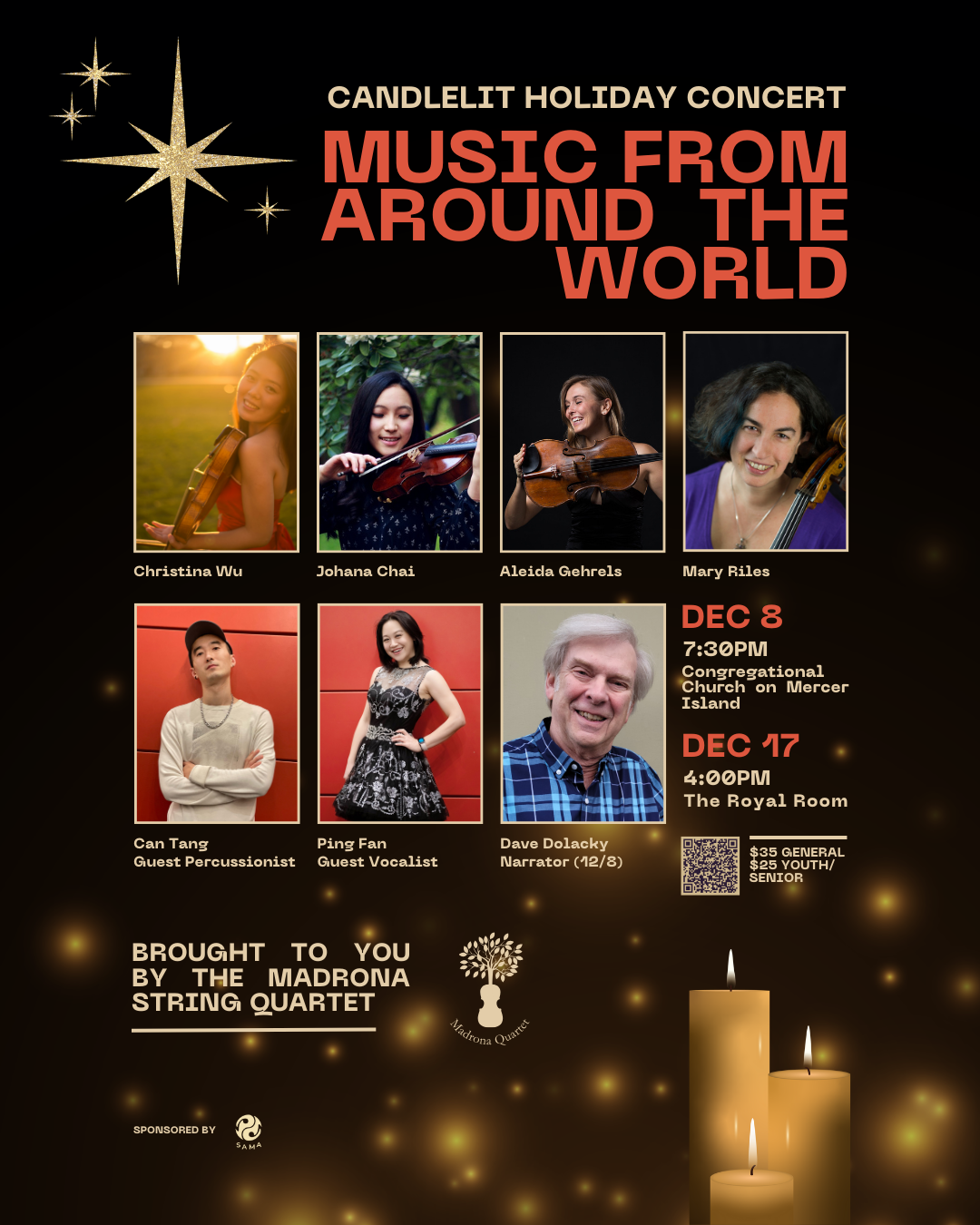 Madrona Quartet: Candlelit Holiday Concert
133
133 people viewed this event.
Doors: 3:30pm
Tickets: $35 advance, $25 youth or senior admission
Advance tickets can only be purchased online-we do not sell advance tickets at the venue. Refunds are not available within 48 hours of the event. Tickets do not guarantee seating during shows at the Royal Room. 
We are now accepting reservations for diners! After purchasing tickets, please visit the Reservations page to book a table. Table reservations require advance tickets, and are only for guests who plan to dine at the Royal Room.  We do not take reservations over the phone.
Seating for non-diners is first come, first served. Please arrive early to guarantee a seat!
The Royal Room is All Ages until 10pm.
Join Seattle's most exciting new string quartet, The Madrona Quartet, and some very special guests for a candlelit holiday concert featuring music from around the world.
The Madrona Quartet: Christina Wu (violin 1), Johana Chai (2nd violin), Aleida Gehrels (viola), Mary Riles (cello)
Guest Artists: Fan Ping (vocals), Can Tang (percussion and piano)
Deeply rooted in the Pacific Northwest, The Madrona Quartet draws inspiration from the lush, scenic beauty of our region. We are dedicated to presenting chamber music in an intimate setting, aiming to create an interactive and immersive music experience, fostering community culture in distinctive venues.
Christina Wu: A versatile, charismatic, and passionate soloist, chamber musician, and educator. She was awarded the prestigious Cynthia Woods Mitchell International Young Artist Competition, and has given numerous performances across Asia, North America, and Europe. Currently serving as concertmaster in Cascade Symphony Orchestra, Christina also appears frequently with the Seattle Symphony Orchestra, plays principal position with the Seattle Chamber Orchestra, and features in live broadcasts on KING FM 98.1. She is a recurring artist at the AIMS Festival Orchestra in Graz, Austria.
Johana Chai: Johana Chai has a dynamic career highlighted by her roles as concertmaster of the Western Symphony Orchestra, principal player with the Prague Summer Night Symphony, and musician with the Midcolumbia and Bellingham Symphonies. She brings extensive experience as a first violinist in the Scholarship String Quartet and Western Faculty Chamber, and has been a standout in various chamber ensembles. Johana's global performances have graced stages in the U.S., South Korea, Czech Republic, and Canada.
Aleida Gehrels: A versatile Seattle-based violist, excels in both contemporary and classical music. She has toured with Macklemore, appeared on KEXP with ODESZA, and featured on Netflix's "Love Is Blind." Her collaborations extend to artists like Father John Misty, Perfume Genius, and Smokey Robinson. In the classical sphere, Aleida has played with the Seattle Metropolitan Chamber Orchestra and The Sound Ensemble, featuring in live broadcasts on KING FM. She has also been engaged with the Fifth Avenue Theatre, Seattle Modern Orchestra, Bellingham Festival of Music, and Village Theatre, showcasing her broad musical reach.
Mary Riles: An accomplished cellist, graduated from Oberlin College & Conservatory of Music with a BA in Classics and a BM in Cello Performance, and holds a Masters in Music from Temple University. Based in Seattle, she is the principal cellist for the Seattle Metropolitan Chamber Orchestra, a member of the North Corner Chamber Orchestra, and has collaborated with the Seattle Modern Orchestra. A passionate chamber musician, Mary has also featured as a soloist with the Thalia Symphony and Kirkland Civic Orchestra.
Fan Ping: The gifted lead singer of CHIME band, stands out as a popular and versatile performer in Seattle's music scene. This summer, she achieved remarkable success by placing in the top 10 of the "Sing China" US region competition and securing a silver medal in the worldwide "Water Cube" singing contest, leading the Seattle Division in both events. Fan's performances are consistently lauded for her impressive vocal range, unmistakable stage presence, and her exceptional adaptability across various musical styles.
Can Tang:  An active performer in the Greater Seattle area, has been a member of several renowned bands including CHIME, Lychee, Bafang, and Fomalhaut. He has performed in hundreds of concerts with these groups and collaborated with numerous distinguished artists. In addition to performing, Can Tang also engages in composing and arranging, notably creating music for the hit game "Sands of Salzaar," which has amassed over 400 million plays.
Thanks to our sponsors: SAMA, InGenious Prep