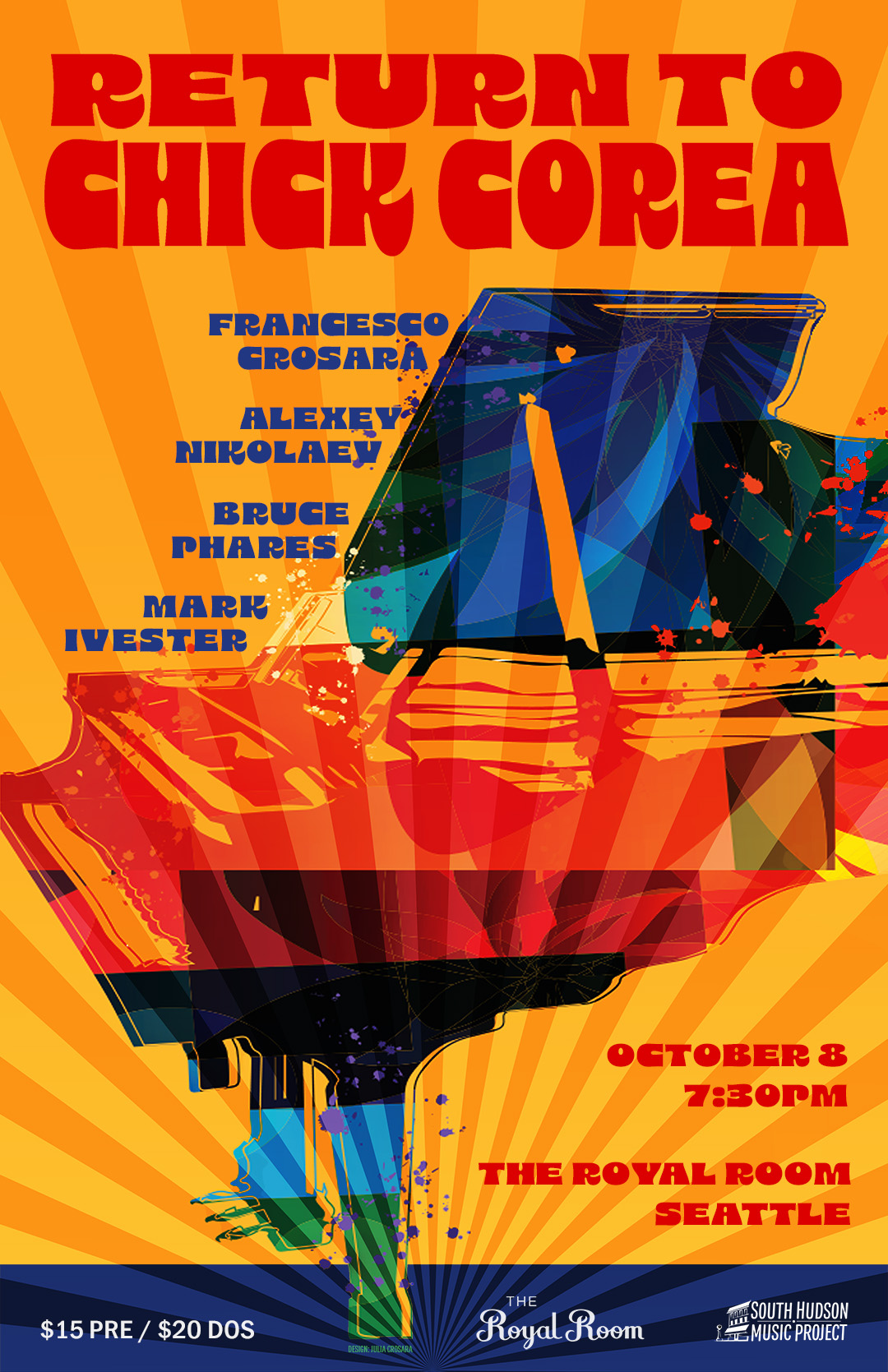 Return to Chick Corea Featuring Francesco Crosara, Alexey Nikolaev, Bruce Phares, Mark Ivester
137
137 people viewed this event.
Doors: 6:30pm
Tickets: $15 advance, $20 doors
Advance tickets can only be purchased online-we do not sell advance tickets at the venue. Refunds are not available within 48 hours of the event. Tickets do not guarantee seating during shows at the Royal Room. 
We are now accepting reservations for diners! After purchasing tickets, please visit the Reservations page to book a table. Table reservations require advance tickets, and are only for guests who plan to dine at the Royal Room.  We do not take reservations over the phone.
Seating for non-diners is first come, first served. Please arrive early to guarantee a seat!
The Royal Room is All Ages until 10pm.
RETURN TO CHICK COREA is a quartet-based music tribute to the great jazz composer, enhanced with additional original compositions created in the characteristic Spanish-infused style of Corea.
The RETURN TO CHICK COREA band was formed as a concept exchange between bassist Bruce Phares and pianist Francesco Crosara. A spirited conversation after an engaging duet performance led to the initial idea of a concert of all-Chick-Corea compositions, a natural for Crosara's Corea-influenced keyboard virtuosity, as well as Phares' style of bass playing. After a pilot performance, Crosara, Phares, and sax-wizard Alexey Nikolaev solidified the concept into the current "Return to Chick Corea" group with the great Mark Ivester on drums. The repertoire spans freely through Corea's 5 decades of music interspersed with original compositions by Crosara written in the style of the maestro.
ABOUT THE MUSICIANS
FRANCESCO CROSARA
Originally from Milan, Italy, Francesco Crosara's music melds an impressive mix of jazz improvisation, a romantic vein from his classical training, along with Latin influences. Francesco stands among the European-bred jazz greats, performing over the years with the likes of Lionel Hampton, Freddie Hubbard, Roy Hargrove, Richie Cole, Lilian Terry, and more. His recordings have featured a multicultural and international array of musicians.
Since 2017, the Northwest can claim his talents, too, as he's demonstrated an eagerness to contribute to the local scene. Francesco was selected to perform at the 2021 Earshot Jazz Festival in Seattle and has been featured two years in a row in the trend-setting Earshot Jazz: The Second Century series for his bold and innovative music composition and video work. In Seattle he routinely collaborates with local stalwarts like Gail Pettis, Jay Thomas, John Stowell, Nathan Breedlove, Milo Petersen, Alexey Nikolaev, Clipper Anderson, Mark Ivester, D'Vonne Lewis, Osama Afifi, Farko Dosumov, Bruce Phares, and more. A new CD project will be released in 2024 with the Origin record label.
ALEXEY NIKOLAEV
Since 2000, Alexey lives and works in Seattle. He performs with groups, Axiom Quartet, Greg Williamson Quartet (Ponyboy Records), Jay Thomas Big Band, Emerald City Big Band, and is a member and saxophonist soloist of Doctor Funk Band (Strokeland Records).
As a recording artist, Alexey performs and records with musicians like pianists John Hansen, Mark Seals, John Sanders, Bill Anchell, Randy Halberstadt, Tony Foster; vocalists Greta Matassa, Dee Daniels, Jackie Davis, Karen Shivers, Kelley Johnson, Kelly Eisenhour, Martin Ross; trumpeters Jay Thomas, Tom Marriott, Vern Sielert, Jim Sisco Andy Omdahl, Steve Mostovoy; trombonists Dave Marriott, Dan Marcus, Gary Shutes; saxophonist Bill Ramsey, bassists Jon Hamar, Doug Miller, Clipper Anderson, Douglas Barnett, Chuck Kistler, Paul Gabrielson, Chris Symer, Jim Cliff; drummers Greg Williamson, Brad Boal, Garey Williams, Hose Martinez, Adam Kessler, Matt Jorgensen and many many more.
BRUCE PHARES
Originally classically trained, after his "apprentice" time of studies after high school, Bruce Phares landed the bass chair in the celebrated Overton Berry Ensemble, which began a 40+ year deep friendship with Berry. Phares' approach to bass playing landed him appearances with many NW region legends such as Ernestine Anderson, Jabo Ward, Floyd Standifer, Eddie Creed, Bob Nixon, Woody Woodhouse, to name a few. He also served as a rotating sideman for many national and international artists such greats as George Cables, Sir Roland Hannah, Frank Wess, Mark Murphy, Stanley Cowell, Larry Coryell, Bruce Forman, etc.
In the last 10 years, Phares has focused on leading various groupings, rejoining with old friends John Stowell, Jay Thomas, and John Bishop in his "Reunion Quartet" performances, as well as leading other groupings, with various NW luminaries such as Marc Seales, Randy Halberstadt, Bill Anschell, Hans Teuber, Jeremy Bacon, Alexy Nikolaev, Brian Monroney, etc. Phares also heads up a duet concert series on Vashon Island, "The Jam In The Atrium", playing to packed audiences at The Vashon Center For The Arts atrium.
MARK IVESTER
Mark Ivester is a consummate drummer, widely respected for his sensitive musicianship and sincere dedication to his craft. He is experienced in many different idioms from pop-rock to big band to jazz, latin jazz and orchestral settings. Ivester's live performance credits are extensive, having worked with such jazz luminaries as John Patitucci, Larry Coryell, Freddy Hubbard, Mal Waldron, Diane Schuur, Eliane Elias, Bud Shank, Howard Roberts, Jack Sheldon, Michael Brecker, Charlie Byrd, Barney Kessel, Frank Foster, Bob Mintzer, Randy Brecker, Tierney Sutton, Ann Hampton-Calloway, Karyn Allison and Mose Allison.
Mark's versatility is demonstrated on a wide range of recordings such as film scores, jingles and album projects including those of R&B artist Philip Bailey of Earth Wind and Fire, Grammy award winning new-age duo Tingstad and Rumbel, Brazilian keyboardist Jovino Santos Neto and vocalist Greta Matassa. Mark is currently on the faculty of Pacific Lutheran University in Tacoma, WA.