Registrations have closed.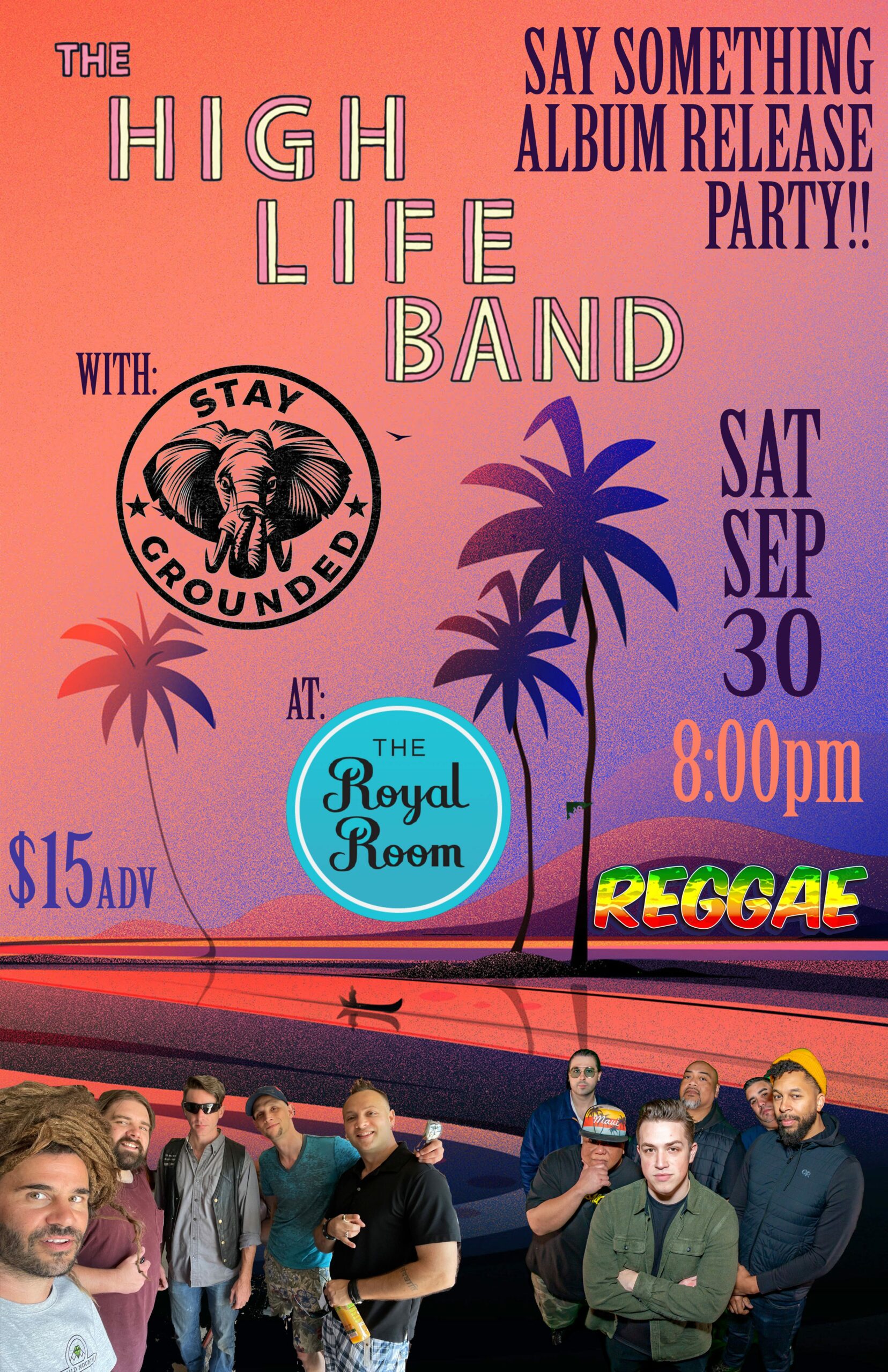 Say Something Album Release Party With The Highlife Band and Stay Grounded
224
224 people viewed this event.
Doors: 7pm
Tickets: $15 advance, $20 doors
Advance tickets can only be purchased online-we do not sell advance tickets at the venue. Refunds are not available within 48 hours of the event. Tickets do not guarantee seating during shows at the Royal Room. 
We are now accepting reservations for diners! After purchasing tickets, please visit the Reservations page to book a table. Table reservations require advance tickets, and are only for guests who plan to dine at the Royal Room.  We do not take reservations over the phone.
Seating for non-diners is first come, first served. Please arrive early to guarantee a seat!
The Royal Room is All Ages until 10pm.
Release party for The Highlife Band's 4th album, "Say Something."  
The Highlife Band
Since its beginnings in 2011, The Highlife Band has been cultivating original reggae and world music that integrates influences from Jamaica, West Africa, the Caribbean, Brazil, and beyond. Their new record, "Say Something," transcends the barriers of world-music genres by integrating The Highlife Band's many cultural influences into one sound. Elegantly produced and arranged, the 11 songs unite listeners on a journey of hope, self-love, and determination that is needed now more than ever in a divided world.
Seattle based Franco-American lead singer, guitarist, and songwriter, Daniel Miller weaves the sounds of various cultures of the African Diaspora into new songs with searing clear vocals, tight horn arrangements, and a pulsating rhythm section. These serve as a vehicle for timeless messages of peace, love, and understanding, while delivered with a sense of immediacy and relevance for today's listeners.
Stay Grounded
"Stay Grounded is a true cross-pollenation of the purest forms of Hawaiian, African, Afro-cuban, Reggae, R&B & Rock. This is evident in their wide collection of originals that rumble the modern foundations of music while honoring tradition. Trailblazing their way onto the scene in 2011, Stay Grounded incorporates their Pacific Northwest heritage, with an exotic & dynamic blend of modern pop, R&B, and rock, infused with a sweet island reggae twist. Passions and influences range as wide and deep as the ocean, from Bob Marley to Bruno Mars. Their powerhouse rhythm section is funky, soulful & tribal, elevated by beautiful Hawaiian and R&B harmonies with crucial messages of Love, Unity, & Empowerment."