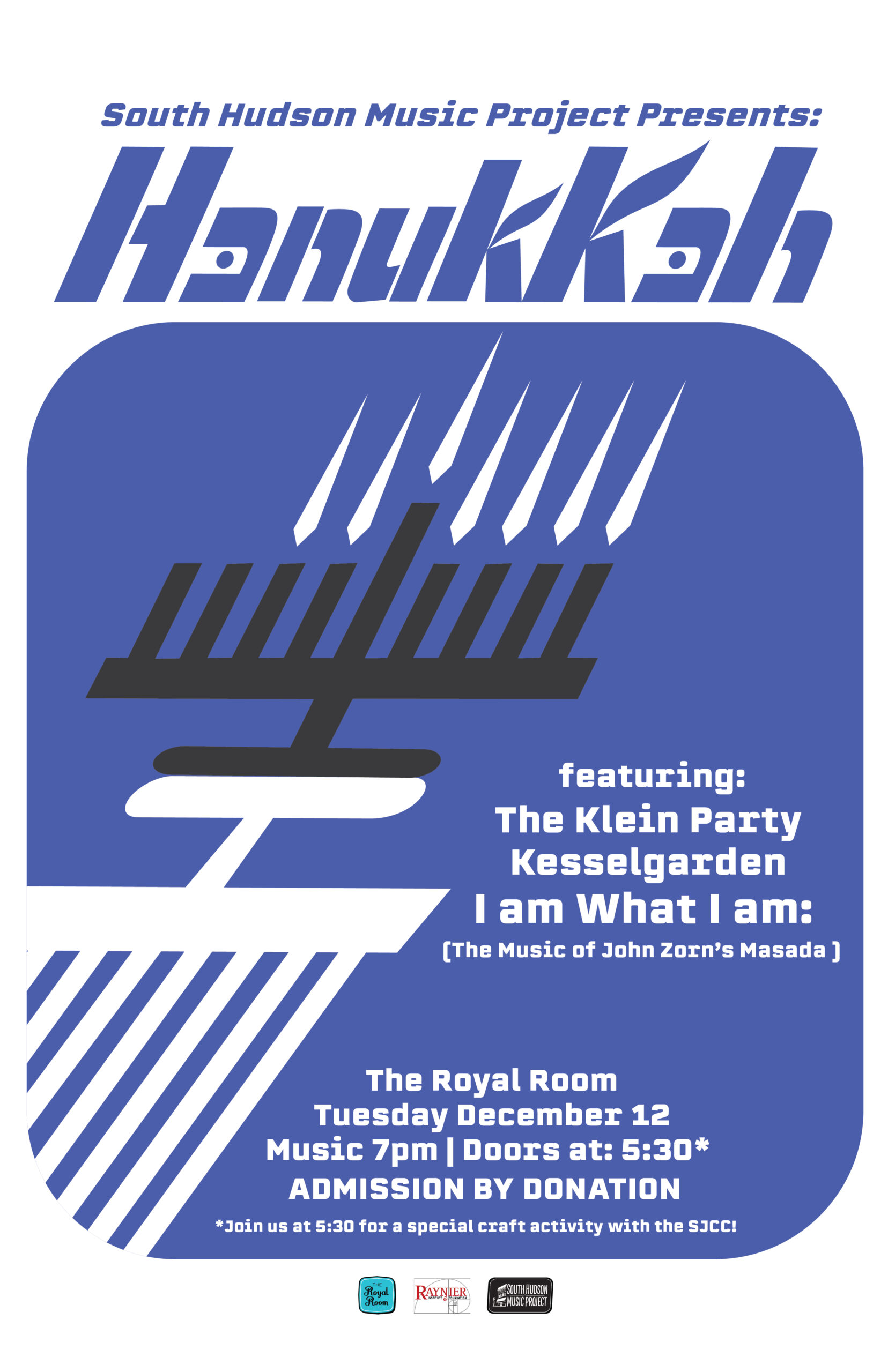 South Hudson Music Project Presents: Hanukkah at the Royal Room
1405
1405 people viewed this event.
Doors: 5:30 pm
Admission by donation
Advance tickets can only be purchased online-we do not sell advance tickets at the venue. Refunds are not available within 48 hours of the event. Tickets do not guarantee seating during shows at the Royal Room. 
Seating is first come, first served. Please arrive early to guarantee a seat!
The Royal Room is All Ages until 10pm. 
Join us in celebrating Hanukkah with three great bands, a Stroum Jewish Community Center Craft booth 5:30-6:30pm- and Latkes!
The Music of John Zorn's Masada: "The idea with Masada is to produce a sort of radical Jewish music, a new Jewish music which is not the traditional one in a different arrangement, but music for the Jews of today. The idea is to put Ornette Coleman and the Jewish scales together." John Zorn
Led by Wayne Horvitz. Featuring Geoff Harper, James Falzone, Darren Loucas and Evan Woodle.
The Klein Party: The Klein Party returns for its 3rd consecutive Royal Room Chanukah Party with a Chanukah-themed and -spirited set. The Klein Party plays klezmerish music from All the Old Countries with a jazz sensibility and rock-and-roll exuberance. Current members include Sabrina Pope (clarinet), Brandon Campbell (saxophones), Ruby Grynberg (violin), Eric Ray Anderson (ukulele and vocals), Joseph J. Casalini (bass), Mark Lutwak (accordion), Amber Wolfe (vocals & castanets), and David Gassner (vocals & percussion).
Carl Shutoff (clarinet in C) and Laurie Andres (accordion) constitute the Kesselgarden Klezmer Duo in Seattle, WA, where we have been playing together for the last 20 years. Our name comes from the way Yiddish-speaking Jews pronounced "Castle Garden", the facility on the southern tip of Manhattan where Jewish immigrants entered this country prior to the opening of Ellis Island in 1892.  Among first and second generation Jews,  the term Kesselgarden was eventually generalized to mean any situation that was noisy, confusing and chaotic. We are a traditional band, playing Eastern European instrumental Jewish music of the 19th and 20th centuries, with original, sweet and joyful arrangements which are neither noisy nor confusing.