When:
December 20, 2022 @ 7:00 pm
2022-12-20T19:00:00-08:00
2022-12-20T19:15:00-08:00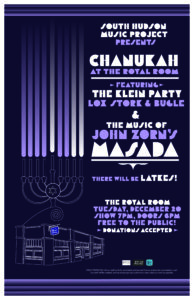 Doors: 6pm
Admission by donation
****Reservations are fully booked for this event. Seating will be first-come-first-served at 6pm*********
COVID PROTOCOLS: All our staff are fully vaccinated, and we ask that our patrons be vaccinated as well. Our staff will be masked, and we encourage our audience to wear masks as much as possible.
Advance tickets can only be purchased online-we do not sell advance tickets at the venue. Refunds are not available within 48 hours of the event. Tickets do not guarantee seating during shows at the Royal Room. The Royal Room is All Ages until 10pm.
Join us in celebrating the third night of Chanukah with three great bands- and Latkes!
The Music of John Zorn's Masada:  "The idea with Masada is to produce a sort of radical Jewish music, a new Jewish music which is not the traditional one in a different arrangement, but music for the Jews of today. The idea is to put Ornette Coleman and the Jewish scales together." John Zorn
Led by Wayne Horvitz. Featuring Geoff Harper, James Falzone, Darren Loucas and Evan Woodle.
The Klein Party: The Klein Party returns for its 3rd consecutive Royal Room Chanukah Party with a Chanukah-themed and -spirited set. The Klein Party plays klezmerish music from All the Old Countries with a jazz sensibility and rock-and-roll exuberance. Current members include Sabrina Pope (clarinet), Brandon Campbell (saxophones), Ruby Grynberg (violin), Eric Ray Anderson (ukulele and vocals), Joseph J. Casalini (bass), Mark Lutwak (accordion), Amber Wolfe (vocals & castanets), and David Gassner (vocals & percussion).
Lox Stork and Bugle: Veteran musicians of the Mazl Tov Klezmer Band, Freylekh, Sub Masa. and the Bucharest Drinking Team come together to graft new ideas and influences to our sturdy Yiddish and Balkan roots. Join Kevin Stevens (bass), Kim Goldov (violin), Marchette Dubois (accordion), and Peter Lippman (trumpet) on a musical journey to lands familiar and forgotten, real and imaginary. From roots klezmer to futuristic, highly danceable East European fantasia—fasten your seat belts and prepare to be surprised!