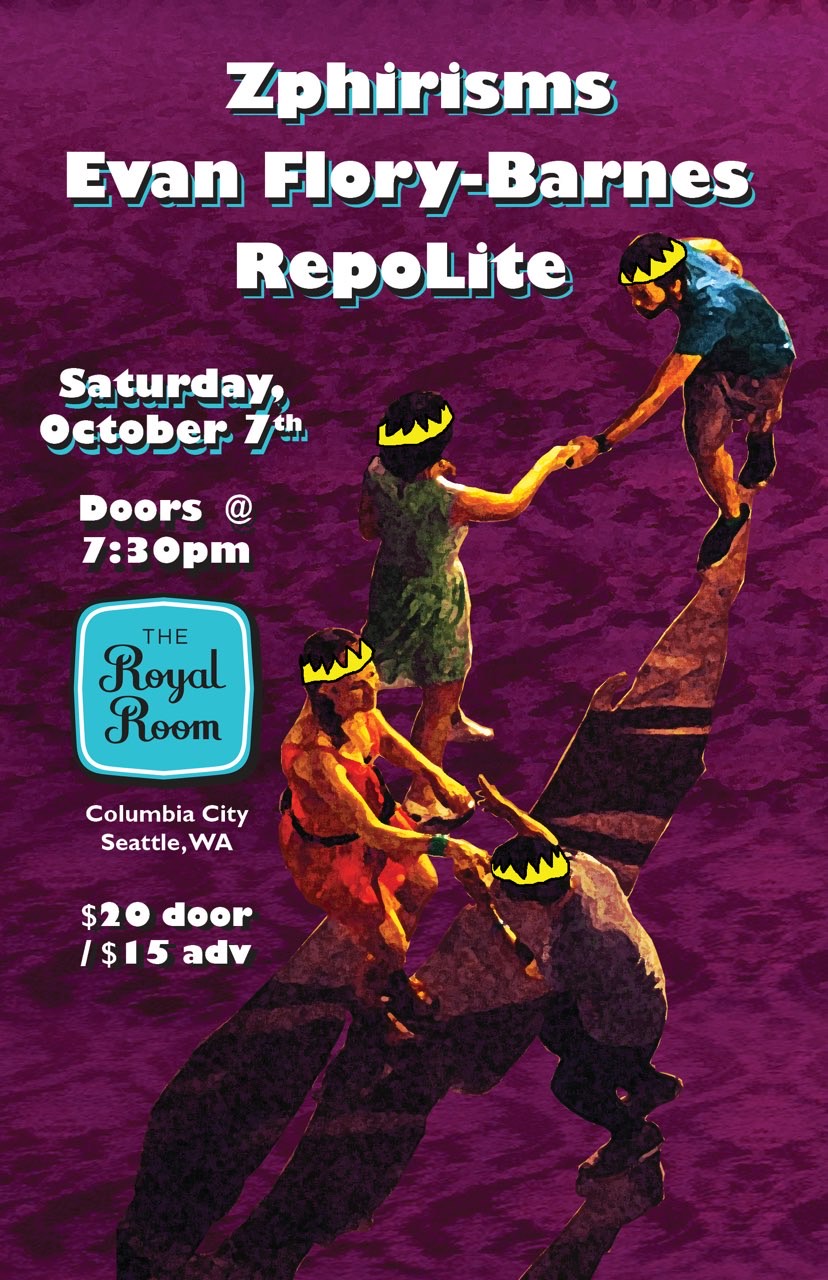 Zphrisms//Evan Flory-Barnes//RepoLite
47
47 people viewed this event.
Doors: 6:30pm
Tickets: $15 advance, $20 doors
Advance tickets can only be purchased online-we do not sell advance tickets at the venue. Refunds are not available within 48 hours of the event. Tickets do not guarantee seating during shows at the Royal Room. 
We are now accepting reservations for diners! After purchasing tickets, please visit the Reservations page to book a table. Table reservations require advance tickets, and are only for guests who plan to dine at the Royal Room.  We do not take reservations over the phone.
Seating for non-diners is first come, first served. Please arrive early to guarantee a seat!
The Royal Room is All Ages until 10pm.
Zphrisms: Like Zephyr brings about the spring season with warm gusts of wind, zphrisms languidly crafts music without the restrictions of a specific genre. However, zphrisms' sound has clear influence from R&B, alternative rock, soul, and funk.
Reposado Lite: THAT FEELING WHEN YOU SIP A FINE TEQUILA
That soothing yet profound fire in your Soul. The feeling of elevation, but with a deep-rooted Culture. Now imagine mixing that with a strong hit of Funk, chopping up a little Jazz, a steady (HEAVY) shake of Afro-Beat, and served in a Cuban Cigar smoked glass.
This cocktail of flavors is what we call     T E Q U I L A F U N K
Reposado means: Rested. It is the middle-aged of the Tequila family, preferred by Tequila connoisseurs because of its balanced flavors. You can also find Reposado Mezcal & Tobacco.
R E P O S A D O  represents a Balance. Having wisdom of age and spirit of youth, highs of a celebration and depths of an intervention, the light joy of a freedom and the weight of certain truths.
We are a family of Musicians and Artists that can vary from a 6-15 person ensemble and you never know what surprise guest will be joining us. You are guaranteed a unique experience every time.
Evan Flory-Barnes: "The Emissary of Avant-Soul Pop"creates an original and distinct sound that merges classic soul and experimental pop, featuring talents as a bassist, composer/arranger and singer-songwriter. His songs touch on the cultivation of hard won self-love, personal sovereignty and experience relationships as both a catalyst and crucible in the developing of one's soul and self. Or as Artist Home put it:
"A gorgeous and irresistible call to self-actualization. The door to a parallel universe—where Prince and Curtis Mayfield are alive and duetting, with Brian Wilson producing—has apparently been opened.